March, 2022
Barts Life Sciences visits Qatar Biobank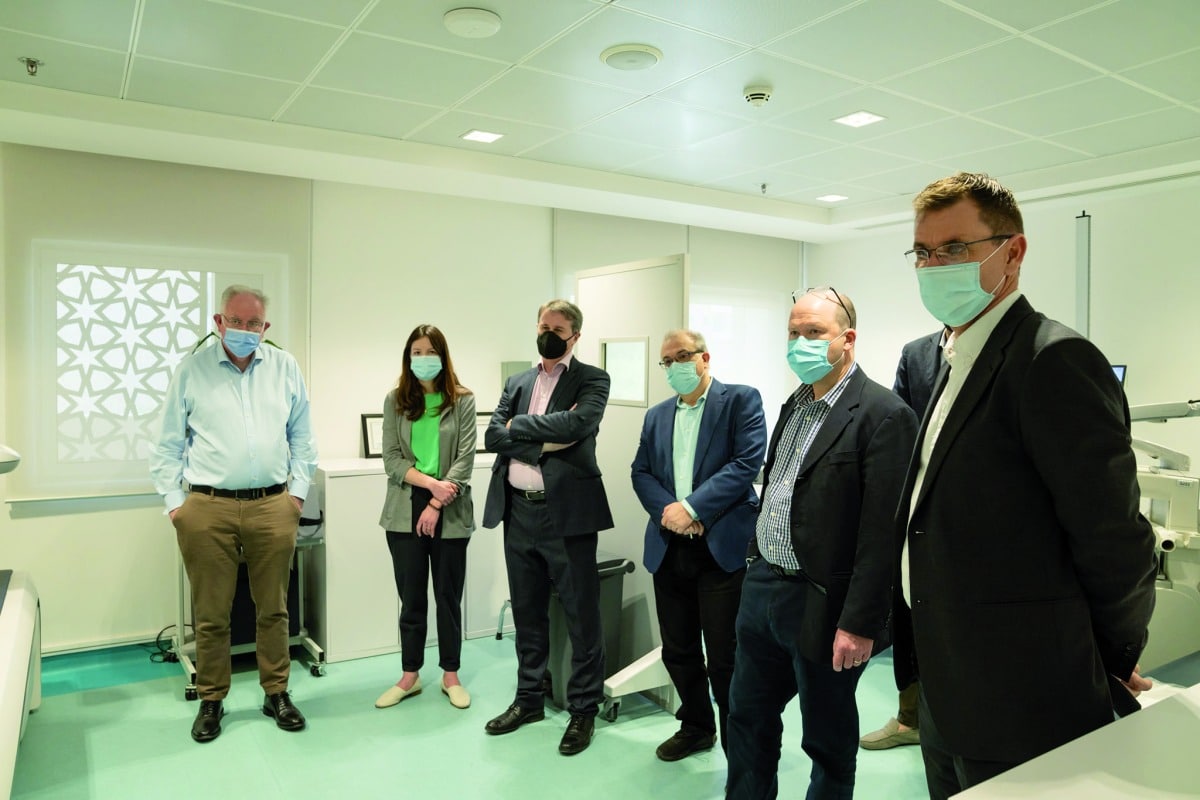 Doha: A group of six delegates who are precision medicine experts from the United Kingdom visited Qatar Biobank, part of QF-RDI, recently. Qatar Biobank team led by Dr. Nahla Afifi, Director of Qatar Biobank, took them on a tour to show the latest equipment and technologies Qatar Biobank is working with to guarantee the best quality standards complying with being ISO and CAP certified.
The group of UK delegates included Prof. Sir Mark Caulfield, CEO of Barts Life Sciences; Prof. Panos (Panagiotis) Deloukas, Director of the William Harvey Research Institute and Professor of Cardiovascular Genomics, Queen Mary University of London (QMUL); Prof. Henry Houlden, Professor of Neurology at University College London (UCL) Queen Square Institute of Neurology; Dr. Mark Bale, Head of Science Partnerships at Genomics England, Deputy Director, Genomics Policy at UK Department of Health & Social Care; Dr. Sophie Williams,  Research Data Scientist, Bart's Health NHS Trust,  and Prof. Steve Conlan, Professor of Molecular and Cell Biology at Swansea University.
The visit started with Dr. Nahla Afifi, Director of Qatar Biobank, and  Mohammed H Al Dosari, Qatar Biobank Communication and Participants Recruitment Manager, welcoming the professors and doctors.
Then, Dr. Nahla presented the latest milestones and achievements of Qatar Biobank in the medical research field, as well as the number of participants recruited so far for the ongoing projects at Qatar Biobank. Then she started presenting the current technologies and equipment used at Qatar Biobank's different departments and laboratories.
After this introductory meeting, the Qatar Biobank team escorted the visitors on a tour at the premises to know more about the workflow, the equipment and technologies at Qatar Biobank.
Dr. Nahla said, "During this visit, we discussed areas of interest for collaboration between Qatar Biobank and the UK delegates, which will be a new milestone in Qatar Biobank's route being one of the top international biobanks serving the development of the medical research and precision medicine."
Mohammed H Al Dosari said, "We were glad to have hosted such respectable delegates from the UK, who are experts in precision medicine. This visit is part of our plan for international collaborations with other international biobanks, aiming to result in successful contributions to medical research and precision medicine development in Qatar and the world."
Qatar Biobank is a member of QF-RDI, in cooperation with Hamad Medical Corporation and the Ministry of Public Health, to be the national repository for biological samples and health information that supports and promotes medical research in Qatar.
Qatar Biobank is also a unique and distinguished resource locally and globally as a biobank that contributes effectively to position Qatar within the top ranks in the medical research field in Qatar and internationally.
https://thepeninsulaqatar.com/article/02/03/2022/uk-delegates-qatar-biobank-discuss-international-collaboration