February, 2021
COVID-19 testing lab goes online at Queen Mary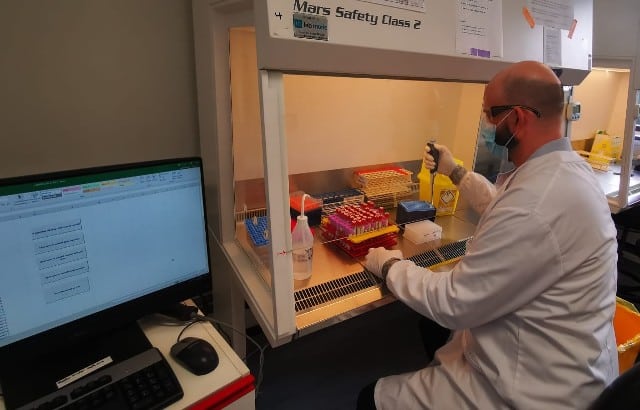 A new COVID-19 testing lab at Queen Mary University of London has started processing NHS Test and Trace samples from the UK population, to increase the country's testing capacity.
Dr Belinda Nedjai, Senior Lecturer in Molecular Epidemiology and Epigenetics at Queen Mary, who is leading the lab, said: "We're delighted to have been able to respond to the government's call to increase COVID-19 testing capacity in the UK and engage in an unprecedented testing campaign.
"Setting up this lab in such a short space of time has been a huge logistical effort, and only thanks to the incredible support we have had from departments across Queen Mary and partner organisations who have all helped to bring this project to life.
"We're also pleased to have been able to recruit and train a number of young scientists to join our team who are all proud to be involved in a big national effort to curb the COVID-19 pandemic."
Lord Bethell, Health Minister, said: "I am delighted this new London University partner lab, operated by Queen Mary University of London, is now up and running. It is part of Britain's largest-ever network of diagnostic testing facilities and will play an important role in our work to stop the spread of coronavirus, increasing testing capacity by tens of thousands over the winter period.
"I would like to thank everyone involved at Queen Mary for their hard work establishing and running this lab. Testing is absolutely crucial to tackling COVID-19 and breaking the chains of transmission. Increasing our testing capacity will mean more tests processed more quickly and shorter waiting times for results."
Queen Mary is part of a Testing Alliance announced in October, set up by life science cluster MedCity, which brings together world-leading universities, healthcare institutes, industry and pathology service providers. The alliance is using untapped resources and building on existing infrastructure and is anticipated to grow to offer at least 20,500 more COVID-19 tests a day for the UK.