May, 2021
New research to study impact of air pollution on children's brain development and mental health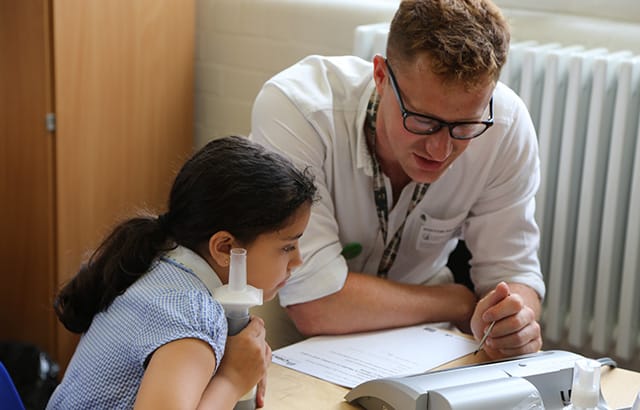 Queen Mary University of London researchers have been awarded a £300,000 grant to study the impact of air pollution on children's brain function and mental health.
The team will examine the impact of London's Ultra Low Emission Zone on children's brain development after receiving the funding from Barts Charity.
The CHILL COGNITION study will run over a three year period and explore whether reduction in traffic, and better air quality as a result, improves how well children's brains develop in terms of their abilities in tasks such as problem solving and memory recall.
In addition, the researchers will relate these changes in brain development to children's mental health.  The research will build on CHILL, an ongoing study of 3,416 primary school children in London and Luton, which is investigating the effects of air pollution on respiratory health and lung development.
This new research will show whether improving air quality can improve brain development and prevent onset of mental health problems in primary school children.
Children from 85 primary schools are taking part in the study, including schools from Luton and London boroughs of Hackney, Tower Hamlets, Southwark, Lambeth, Westminster, Camden, Islington and the City of London.
Over the next three years, the children's cognitive development will be assessed through fun and interactive tasks on computers, and their wellbeing monitored through mental health questionnaires.
Professor Chris Griffiths, Professor of Primary Care at Queen Mary University of London and study lead, said: "London's Ultra Low Emission Zone and UK-wide Lockdowns have resulted in unprecedented reductions in traffic pollution and there has never been a better opportunity to address how air pollution affects children's health. We hope to determine whether improved air quality, and specifically, traffic-related air pollution, results in better developmental and mental health outcomes for young people.
Professor Mark Mon-Williams, Professor of Psychology at the Bradford Institute of Health Research said: "Ultimately this research could help to improve educational outcomes, identify children at risk of future mental health problems due to the air quality where they live, and this could enable earlier intervention and allow public services to provide the necessary support and action."
Dr Ian Mudway, Senior Lecturer in the MRC Centre for Environment and Health at Imperial College said: "Results of CHILL COGNITION may throw light on causes of health inequalities whereby children from disadvantaged backgrounds may be more adversely affected by poor air quality."
Between 2018 and 2020, the Ultra Low Emission Zone in London resulted in roadside nitrogen dioxide reducing by almost one third.
CHILL and CHILL COGNITION are collaborations across Queen Mary University of London, Imperial College London, University of Bedfordshire, University of Edinburgh, University of Cambridge, University of Leeds, University of Southern California, and Bradford Institute for Health Research. CHILL is funded by NIHR Public Health Research. CHILL COGNITION is funded by Barts Charity and receives additional funding from the Mayor of London.
More information