September, 2021
Queen Mary researchers including Director of Barts Life Sciences Rakesh Uppal help develop nasal spray that prevents Covid-19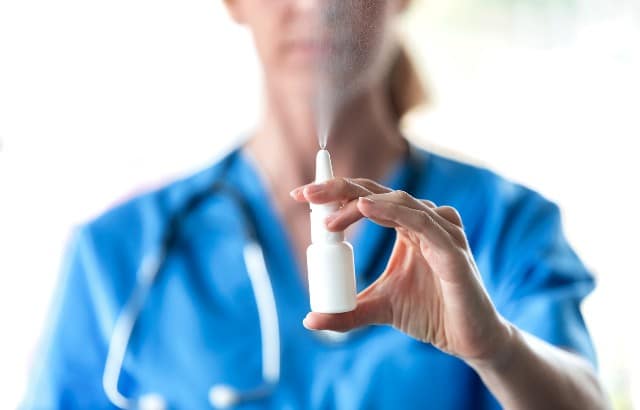 Queen Mary University of London professors Rakesh Uppal and Áine McKnight have been at the centre of a new clinical trial finding that pHOXWELL – a nasal spray developed by biotech company pHOXBIO – reduced SARS-CoV-2 infection by 63 per cent in the group given pHOXWELL compared to the group given the placebo. SARS-CoV-2 is the virus that causes Covid-19.
The trial was carried out during the peak surge of the highly infectious Delta variant in India in April to July 2021. Both a spray and placebo were delivered to 648 healthcare workers in India at high risk of the virus, to best test the solution's effectiveness.
Following the study, 13.1 per cent of those receiving the spray tested positive for SARS-CoV-2, significantly less than the 34.5 per cent who received the placebo treatment.
Additionally, only 17.6 per cent of pHOXWELL patients who tested positive for the virus showed clinical symptoms. This compared to almost double in those from the placebo arm, with 34.6 per cent displaying these signs.
Professor Rakesh Uppal, Professor of Cardiovascular Surgery at Queen Mary University of London, Director of Barts Life Sciences and Chairman of pHOXBIO, said: "pHOXWELL presents a significant breakthrough. We now have an effective tool, previously missing, to fight this pandemic.
"Vaccination, while absolutely essential, is not 100 per cent effective and it is still possible to become infected by, and transmit, the virus that causes COVID-19. pHOXWELL is designed to offer extra protection to vaccines and PPE, as the spray inhibits SARS-CoV-2 from infecting the nasal mucosa, which is the primary entry point into the body."
There is considerable potential for an intranasal COVID-19 treatment to have a key role in preventing cases, given it is designed to prevent infection in an area where the virus enters and replicates.
The nasal spray offers 6-8 hours of protection with just two sprays per nostril and is designed to be effective against other airborne respiratory viruses as well.
The hope following the trial is for production and distribution of pHOXWELL to commence soon in India initially, before expanding into other regions to best protect people around the world.
The researchers expect that the treatment will be of particular use in areas where vaccination rates remain low and there is a shortage of personal protective equipment for those who need it, such as frontline healthcare workers.
Scientists from several universities and institutions collaborated to bring this research to fruition. As well as representatives from Queen Mary, Barts Health Trust and the Blizard Institute, the pHOXBIO team included Professor Dame Kay Davies, Professor Steve Davies and Professor Angela Russell from Oxford University. The Universidade Federal de Minas Gerais in Brazil and numerous US-based scientists also contributed to the research and its delivery.
Barts Life Sciences – a partnership between Barts Health NHS Trust and Queen Mary, supported by Barts Charity – was set up to accelerate, with confidence and safety, research and development through the innovation chain from the bench to the patient. pHOXWELL exemplifies how the development of new therapeutics will transform health and wellbeing, inequalities and patient care worldwide.